These lovable animals are available now for adoption at the ASPCA center on E. 92nd St.
by Our Town
The ASPCA says Gepetto, a 4-year-old shepherd-lab mix, is an absolute sweetheart of a dog. He"s incredibly friendly to every person he meets and he loves to be stroked and cuddled. Despite some rough times in his past's the ASPCA rescued him from a hoarder's Gepetto is an energetic, happy guy (and that boundless energy makes him a great running buddy).
Gepetto knows basic manners and he"s ready to work hard to learn more with a dedicated and patient pet parent. He can get antsy when left alone, so he"ll need lots of stuff to keep him busy while his people are away. He shouldn"t get the run of the house until he learns the rules. This affectionate canine would be happy to live with children ages 10 and up.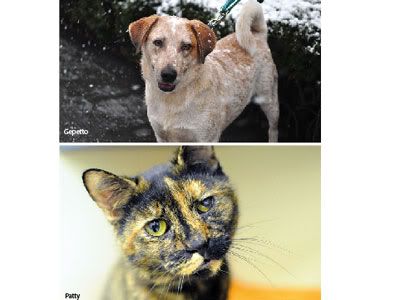 Patty, a 5-year-old domestic shorthair mix, is patiently waiting for someone to take her home and give her a place of her own. This pretty kitty was rescued by the ASPCA and had a rough start in life, but she hasn"t let it get her down. She tests positive for FIV (Feline Immunodeficiency Virus) antibodies, but this shouldn"t prevent her from living a long and happy life. She can be a bit shy but isn"t lacking in love to give. Patty has a great heart and can"t wait for an adopter to open up their own and take her home.
To adopt Patty, Gepetto or any of the many other dogs and cats at the ASPCA, visit their shelter at 424 E. 92nd St. (between York and First avenues) 11 a.m.-7 p.m., Mondays through Saturdays, and 11 a.m.-6 p.m. on Sundays. For more information, go to www.adoptaspca.org or call 212-876-7700 ext. 4120. If you do adopt Patty or Gepetto, email jrogers@manhattanmedia.com to let us know how it"s going.
Trackback from your site.