A look at Our Town' articles over the last 40 years
---
Written and compiled by Lisa Chen, Ashley Welch and Catharine Daddario.
We scoured our bound archives and the New York Public Library"s Our Town microfilm files trying to pick out the biggest or most interesting article of the year's or ones we just liked for this highly subjective review.

Our Town"s predecessor, Manhattan Pennysavers, did not have many articles, so we did not do a summary for 1970. The paper changed its name April 30, 1971, making this year the 40th anniversary of the Our Town name. There are a few other years missing in this review because the NYPL had trouble locating the issues.
We have undoubtedly left off some people"s favorites, but we hope you"ll appreciate this retrospective with a focus on Second Avenue Subway progress and lack thereof's Our Town has been documenting construction complaints since at least 1973's and little gems like the longing to make East 86th Street more "mall-like.
Nov. 5, 1971
Asphalt Green Project's When the Asphalt Site building project was proposed by the Educational Construction Fund to Community Board 8, residents opposed the project, which involved the construction of low-income and middle-income housing, a new school and a community park at York Avenue and 90th Street. Assemblyman Peter Berle argued that with the proposed middle-income housing at $85–$90 a room per month, "people who need housing in the Yorkville area are not going to be able to afford this housing. Reporter Tom Crispo wrote that the "300 units of low-income housing does not even begin to put a dent in the thousands of poor and elderly citizens who needed housing. CB8 approved the proposal, but some residents accused the board of failing to represent the community. Despite ensuing conflict in years following, the Asphalt Site project still stands today.
Sept. 1, 1972
"Hey Mr. Tambourine Man Here Comes The People 's In the 1970s, "juice bars such as The Zoo, the Fudge Factory and the Forbidden Fruit emerged as sketchy drug-filled discotheques whose late-night activities upset local residents. The Tambourine Club at 350 E. 81st St. received repeated summonses for "deafening noises, drug arrests and street violence. Community members and Tambourine patrons clashed violently, and residents even threw rocks and bottles at patrons. Following a community demonstration against the club, police made 19 arrests at the Tambourine during the week of Sept. 1, 1972. The Tambourine closed months later, but juice bars continued to thrive throughout Manhattan, much to the chagrin of residents.
Sept. 28, 1973
Second Avenue Subway Opposition's At a Sept. 17 public hearing, residents expressed little support for the construction of the Second Avenue Subway.
Led by the Lenox Hill Neighborhood Association, critics of the project worried that the planning committee, a joint venture of the Municipal Art Society board and the City Planning Committee, had neglected the local community"s health and safety needs in the interests of real estate developers. Residents especially opposed the low-rise building demolition that would result from building subway easements within buildings rather than sidewalk stairways. Opposition continued even after construction was approved; the project was shut down in 1975 before planning was resurrected in the "90s.
May 17, 1974
Tenant Tensions's In 1974, growing complaints about collapsing walls, sewage and other poor living conditions finally spurred tenants to fight back. Even after a suspicious fire damaged a Mt. Sinai apartment, burning through the ceiling and the insulation, Mt. Sinai continued to call the apartment "livable. Tenants rallied against landlords and later that year, drafted the first Tenants" Bill of Rights, paving the way to improved living conditions throughout the city.
Feb. 7, 1975
"East 86 Streetscaping Plans Now Public 's Our Town unveiled proposed blueprints for the beautification of East 86th Street, which hoped to transform the busy street into a "mall-like avenue. Plans included lighting that was "not only festive looking but also flattering to people, paving in "a warm brown or reddish color and outdoor cafes "designed for taking a respite from a busy day. The entire beautification project cost $705,000. Although many of the proposal"s ideas ultimately did not come to life, East 86th Street has undergone a thorough beautification project over the years, involving the planting of many trees.
July 17, 1977
Citywide Blackout's On July 13, a citywide electrical blackout occurred in New York City. The only areas not affected were parts of southern Queens. Massive looting followed on the Upper West Side; approximately 40 stores on Broadway and Columbus Avenue between 80th and 100th streets were looted during the blackout. The electrical failure was a result of lighting strikes in stations in the Hudson valley.
July 2, 1978
Bridgemarket Battles's Entrepreneur Harley Baldwin sought to make use of the space underneath the 59th Street Bridge at First Avenue. He called his project "Bridgemarket and hoped to build "an international food emporium under the bridge"s arches. Residents of Sutton Place opposed the project, fearing congestion, air pollution and over-taxation. After years of struggle, Bridgemarket was finally approved in 1982. Construction began in 1985, and Bridgemarket opened at last in 1988.
Oct. 11, 1981
St. Bart"s Office Building?'s When St. Bartholomew"s Church wished to lease its grounds to a private developer, the community refused. The church wished to convert its community house and gardens into a high-rise office building in order to raise funds. However, Community Board 5 voted against the construction of a new office building on the church"s grounds on Park Avenue between 50th and 51st streets. The Landmarks Preservation Commission also refused the church"s request in the name of historical preservation.
Feb. 6, 1983
"Vandals Destroy Our Town Offices 's On the evening of Jan. 27, vandals broke into Our Town"s offices at 1751 Second Ave. and destroyed all equipment relating to the production of the newspaper, including computers, typewriters and the entire telephone system, leaving the office looking "like a war zone. Despite the loss of equipment, however, Our Town continued to produce its weekly issue. The identities of the perpetrators remained unknown.
April 1, 1984
April Fool"s Issue's Our Town began an annual April Fool"s series when its headlines declared, "Koch Jailed on April 1. The joke article accused Mayor Koch of brown bagging a bottle of California Almaden wine into an Upper East Side Restaurant. Koch"s fictional bail was set at $500,000. Future April Fool"s front pages included Mario Cuomo"s decision to run for Governor of California, Koch"s resignation from office to accept a position as a talk show host in competition with Johnny Carson, and Donald Trump"s vow to devote the rest of his life to poverty relief.
April 28, 1985
Crime Up on the UES's Despite the improving response of the 19th Precinct, crime prevailed through the Upper East Side. In 1984, the precinct received 3,652 burglary complaints. Reports of prostitution also increased throughout the city. In October 1985, a record 100 residents voiced their concerns at a 19th Precinct community council meeting.
March 23, 1986
City Council"s Gay Rights Bill's Our Town featured opposing columns for and against the gay rights bill, written by Mayor Edward Koch and Reverend Peter Finn, respectively. The bill passed and Koch signed it into law in April.
Jan. 25, 1987
Changing Landmarks's Several of New York"s artistic landmarks encountered hurdles's Symphony Space and the Beacon Theater were both threatened with extinction after falling into disuse. The Guggenheim faced its own expansion woes, struggling to reconcile Wright"s legendary design with a 10-story addition to the museum.
Aug. 5, 1988
Drop-In Homeless Shelter Faces Opposition's The Upper East Side Coalition, members of Community Board 8 and residents fought against the construction of a drop-in homeless shelter on 77th Street between Second and Third avenues. Critics argued that the shelter did not belong in a residential neighborhood, and feared the danger that the traffic of a 24-hour shelter would bring. Ultimately the shelter was established, and is currently facing pressure from city budget cuts.
June 25, 1989
The Second Avenue Festival's The Second Avenue Festival brought the Upper East Side community together with food, shopping and games. Sponsored by the Manhattan Chamber of Commerce and Our Town, the annual festival took place on Second Avenue between 66th and 86th streets. In 1989, the festival raised over $100,000 to support local community organizations.
Oct. 21, 1990
"Miracle on 71st Street 's When a truck knocked the limb off of a tree during a construction project on 71st Street between First and York avenues, no one expected to find a 6-inch-tall ivory statue of the Virgin Mary embedded in the tree"s trunk. The tree became an object of great veneration as visitors adorned the tree with flowers, prayers, bells and rosary beads. After the statue was stolen shortly after it was discovered, community members formed a vigilante security force to protect the tree. Remarked a woman named Lydia, "I expect that it"s a sign from God that something very beautiful will happen in the city.
Aug. 4, 1991
"Koch Goes to the Movies 's Former Mayor Ed Koch was one of Our Town"s first columnists's when Koch served in the House of Representatives, he reported weekly on his congressional activities, first appearing in Our Town in 1970. After ending his term as mayor in 1989, Koch returned to Our Town as a movie review columnist. Among his first reviews: My Mother"s Castle (1990), Boyz in the Hood (1991) and The Rocketeer (1991), which Koch described as "boring. Even the kids walked out.
July 23, 1992
"Encore! 's The Naumburg Bandshell in Central Park, a gift from Elkan Naumburg to the city in 1924, faced the threat of removal in the summer of 1992. Located on the Mall just south of 72nd Street, the Parks Department argued that the bandshell "is obsolete, dirty, and a magnet for homelessness, drug activity, and vandalism. Members of Community Board 8 and the Coalition to Save the Naumburg Bandshell fought the Parks Department"s attempts to remove the landmark. Ultimately, the New York State Supreme Court ruled that the Parks Department had allowed the bandshell to deteriorate and fall into disrepair. The bandshell still stands today.
Aug. 12, 1993
"Silence of the Muslims "Defending the Faith: East Side Mosque Braves the Wave of Hate 's Our Town covered the rise in anti-Muslim feelings that grew out of the 1993 World Trade Center bombing's almost a foreshadowing of the 2010 objections to the proposed construction of an Islamic center near the WTC.
April 14, 1994
"Whatever Happened to the Second Avenue Subway? 's The Second Avenue Subway construction had been in the works for 60 years, and the 4/5/6 line's as it is now's was the country"s busiest line during morning rush hours. The subway was approved by voters in 1951, closed down in 1975 and the tunnels were covered. The 1994 article said: "Beginning this summer, transportation consultants will dredge up the Second Avenue subway to determine whether the line, abandoned nearly 20 years ago, is worthy of resurrection.
July 20, 1995
"St. Agony 's The article outlined problems at the St. Agnes homeless shelter, which was serving 300 to 400 homeless a day. Although a few neighbors supported the shelter"s work, people who relied on it complained about violence, slow response to work or education requests and the $40 a week stipend for kitchen or cleaning work. "Clients and experts in the social services field agree that St. Agnes is one of the city"s worst drop-in centers.
March 28, 1996
"Still Brewing 's Our Town wrote an article about the 100th anniversary of M. Rohrs coffee shop, which opened in 1896 and closed in 2010. The shop stood strong against Starbucks and other coffee shops opening up all over the Upper East Side, and was continuing to be part of the neighborhood.
June 3, 1998
"Grand Old Station 's In 1998, there was a major change to a New York landmark. Grand Central Station underwent a full restoration. Its leaky roof was fixed and all the dirt scraped and washed off. "[Brendan] Sexton of the Municipal Art Society said, 'The challenge now is upkeep."
Dec. 10, 1997
"How to Catch a Rapist 's Our Town wrote about a "baby-faced rapist, committing a string of rapes on the Upper East Side. "For every reported rape in the United States, the National Victims Bureau says that 6 out of 10 other rapes go unreported. The bureau also said that one out of every three women will be sexually assaulted in her lifetime and that one in four college women have either been raped or suffered attempted rape. The East Side Rapist began his crimes in 1994, and he committed 18 rapes.
July 8, 1999
"Will Yuppies Take East Side Harlem? 's "For many, East 96th Street was known not as a street, but as a wall between English and Spanish, white and non-white, have and have-not. Today, the "wall may have moved up some blocks, but the gentrification and redevelopment has been a hot topic in New York for years. In 1999, a 12-screen Cineplex was going to be placed at 125th Street and Lexington Avenue, and a big-box retail complex was being built on East 116th Street.
July 20, 2000
"The New E. 86th Street 's The Upper East Side used to be "populated mostly by Germans, with some Hungarians, Irish and Italians. The neighborhood was still showing some remnants of the days of immigrant Manhattan, with a meat shop, Schaller & Weber, Glaser"s Bake Shop and various Hungarian restaurants. But these shops were few and far between, with big corporations dividing them. Between 1975 and 2000, all the changes on 86th Street have caused it to lose most of its German/Hungarian vibes, but have made it into a "national shopping mecca.
Sept. 20, 2001
"Tales of Agonizing Search 's 9/11 led to a massive search for many New Yorkers. "Person after person said they sought a cousin, sister, husband, wife, boyfriend, girlfriend or brother. Their stories started to blur together's 'he was on the 106th floor…" 'nice person…" 'smart…" 'easy-going." People searching for loved ones hovered in front of the National Guard at Lexington Avenue and the Armory for the 60th Street Infantry, sharing their stories. The issue included a personal account from a firefighter and an article about how life went on for much of the rest of New York.
March 28, 2002
"The Revenge of the Nannies 's With many families in New York using nannies, The Nanny Diaries, a fictional book based on the real-life experiences of the two ex-nanny authors, sparked debate on nanny treatment.
Sept. 11, 2003
"East Side Finally Gets H.S. 's Eleanor Roosevelt High School opened Sept. 8, 2003, after a long effort by Our Town and other local advocates. Originally costing $14 million, the school opened up to 130 freshman and 109 sophomores, with only 13 full-time teachers, two part-time teachers and one part-time college advisor.
Nov. 18, 2004
"Schools Can"t Paper Over This Problem 's Many bathroom supplies are missing from many East Side schools. This is no joke. Even now, it is a common complaint. "Parents are being forced to buy toilet paper for their kids, according to Upper East Side Councilwoman Eva Moskowitz. It has long been a theme in New York City public schools that there are no paper towels's they"re in the toilet if they"ve been stocked for the day at all, there is no soap ever, and there isn"t enough toilet paper for all the kids in school. Council Member Eva Moskowitz asks, 'If we can"t even get soap and toilet paper in the bathrooms, are we really going to be that successful about teaching science or music?"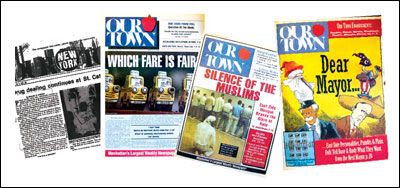 Oct. 27, 2005
"What"s Happening with the Second Avenue Subway Line? Not Much. 's Our Town had constant updates on the status of the Second Avenue subway line, all without very much change. The restarted construction along Second Avenue had been blocking streets for a while. As of 2005, "after decades of talk, many millions allocated, and plenty of stress for straphangers, there"s still not any actual construction taking place. A Transportation Bond Act would permit $29 billion in state bonds, allocating $450 million for the Second Avenue Subway. The Act was approved by voters in November 2005.
June 22, 2006
"Gas Crisis Hits Home 's Though many New Yorkers thought they were safe from the rapidly rising gas prices throughout the country, they soon learned that even without cars, their lives would be affected. Florists, supermarkets and small business owners had to adjust their pricing to deal with the increased costs to bring supplies to their stores. "The cost is clearly having a trickle down effect, said Jason Babbie, senior environmental policy analyst at the New York Public Interest Research Group.
Nov. 22, 2007
"Fight Over Marine Transfer Station Continues 's Resistance continued against the proposed marine transfer station at East 91st Street after the City Council approved Mayor Bloomberg"s plan to reopen the presently defunct site in 2006. Activists spoke out about the pending onslaught of rumbling garbage trucks and rotting waste that would be brought to the densely populated, residential area of the Upper East Side. As two lawsuits against the city were making their way through the courts, many warned that the fight was far from over. They were right; the battle still continues today.
March 20, 2008
"Cranes Collapsing 's On March 15, an East 51st Street building was destroyed by a collapsed crane, leaving seven dead and severely damaging several other buildings close by. It would later be discovered that the construction project using the crane had improperly received building permits, a finding that led former Buildings Commissioner Patricia Lancaster to step down. Two months later, another crane on East 91st Street fell down, killing two workers and damaging a nearby building. Investigators found an improperly repaired turntable to blame.
Oct. 8, 2009
"Second Avenue Subway Updates 's As construction on the Second Avenue subway continued, residents and business owners affected by the work saw no relief. Residents of 1772 Second Ave. were displaced for two months after their building was evacuated due to safety concerns associated with the construction. Small businesses up and down Second Avenue suffered major losses in sales and had to cut back on staff. "Any minute a few stores will close, a store manager said. "We lose car traffic. We lose foot traffic. It"s very noisy.
Sept. 23, 2010
"Vision 2020 Calls for Esplanade Repairs 's Easier waterfront access and a refurbished esplanade are some of the recommendations in Vision 2020: The New York City Comprehensive Waterfront Plan, released by the Department of City Planning. This came after Upper East Side residents rallied earlier in the year around repairing the dilapidated East River esplanade, citing its narrow construction and areas of disrepair as hazards to pedestrians and bicyclists.
May 5, 2011
"C Grade Dining & "The Upper East Side"s Dirty Dozen Restaurants 's A look at the city"s confusing health code grading system and how restaurants can delay and ultimately avoid posting a bad grade. One owner complained that his violations were for his office, where no food is prepared.
Crime Chronicles at the Kenmore Hotel
By Ashley Welch
In 1994, Our Town helped bring down Tran Troung, owner of the Kenmore Hotel, the largest single-room-occupancy hotel in Manhattan at that time, which was infested with drugs, prostitution and crime.
Reporter Justin Brown spent a night at the Kenmore, located at 145 E. 23rd St., in December 1993. He wrote "Hotel from Hell, an exposé of the living conditions within the building. He described addicts and prostitutes "cruising the halls amid the stench of urine and feces, and families of six or more crammed into 11-feet-by-14-feet rooms. The communal bathrooms were so filthy and dangerous that many residents were forced to bathe using only the sink in their rooms. On the seventh floor, there was a room completely inhabited by pigeons, the floor smothered with several inches of droppings. Crime was rampant, with police estimating arrests at 75–100 in a year, mostly for drug possession and distribution.
The Kenmore had not always been a dangerous place, but changed drastically when Troung purchased it, along with four other hotels, in 1985. In June 1987, Our Town reported on the mounting health violations and also delved into the hotel"s history 50 years prior, when it was a luxury hotel. In February 1988, conditions were continuing to deteriorate as Troung fired half the maids.
Prior to this change in ownership, the hotel housed many elderly tenants on welfare. However, a shift soon occurred, as Troung was more interested in tenants receiving supplementary security income, given to people who are diagnosed with both a mental disturbance and a chemical dependence. According to an attorney who represented many of Kenmore"s tenants against Troung, the owner had believed SSI was a more secure source of income than welfare.
As a result, many of the elderly tenants were driven out, and those who remained were often in grave danger. In May 1994, Our Town reported the murder of an 86-year-old woman, strangled in the shower of a community bathroom. The next month it would be discovered that the alleged murderer was part of Kenmore"s management.
After a second murder occurred in June, in which the body had been left decaying for over a week, the federal government stormed into the Kenmore and seized it from Troung. Law enforcement officials made 18 arrests and recovered 100 vials of crack cocaine.
The tenants were elated by the takeover, with one telling Our Town, "It was a blessing, a godsend.
_
With additional research by Lisa Chen.

Cindy Adams Used to Write Only in Our Town, Kids
By Josh Rogers and Lisa Chen
Before gossip maven Cindy Adams started writing for the New York Post, she was a popular Our Town columnist, beginning in 1975. She once told New York Magazine she got paid $5 a week and was fired because the Post stared wooing her.
We did not find her famed line "Only in New York, kids in our archives, but we did find many examples of her now signature breezy style. Here are a few:
*"AT&T is greatly benefited by the Bacharach family. Mama and papa Bert and Irma Bacharach called son Burt Bacharach in California to say, 'Hi." They got daughter-in-law Angie Dickinson on the phone. They chatted 15 minutes. The hotshot composer was in the shower and he"s a slow scrubber. A half hour later he called them back in New York. They spoke for half an hour. Then they forgot to tell the kids something so they called back again and this went on all night. How do I know, you ask? Because I was in Irma and Bert"s apartment the whole time waiting for them to fix me a peanut butter on white…
*"Nancy Reagan, wife of the once-upon-a-time Governor of California, Ronnie Reagan, plans to schlep about the country on a lecture circuit for $1,500 per shot and expenses. Her subject? What it"s like to be the wife of a governor. The theory? Either she needs the bread or he needs the exposure or they need to get away from each other periodically…
*"They say Marlene Dietrich"s actually singing for her supper at age 74. I can"t believe she"s that flat. I mean in terms of money…
*"Listen, to all of you who ask is Jim Nabors retiring? Answer"s no. I don"t know where the rumor started. I don"t know why anyone would care whether he was retiring or not. And I don"t know why you"d bother asking me in the second place. But anyhow the answer"s no.
*"At Joe Kipness" Pier 52, I heard that Billie Jean King"s lousy investments have cost her a mil so chum Elton John"s solid gold investment brokers stepped in to straighten out the mess…
*"Bye now. I"m late for a manicure.
*"All this noise in Portugal reminds me of my all-time fumble when I was in Estoril, the Portuguese haven for Europe"s dethroned royalty. I met a man in the hotel lobby of my hotel who introduced himself as 'Ray M. Berto." When I asked him what work he did he replied sadly. 'Nothing at all, nothing's I used to be King of Italy," said Rei Umberto.
*"I myself with my very own eyes saw Streisand schlepping along Park Avenue with a floor-length cape, a floppy hat pulled way down low and dark glasses in the middle of the afternoon and nobody but old 20-20 knew who she was.
*"I guess by now you"ve probably heard about the six great-grandchildren of His Majesty the late Emperor Haile Selassie and the fact that they escaped from Ethiopia and arrived here recently and were met at the airport by my husband and me and whisked to a relative in Virginia for safekeeping… They escaped with nothing but the clothes on their backs so we"ve set up a fund and if anybody would like to help with a check…
Adams told New York that she started at the Post in 1979 when she told the paper"s editor in passing that she was about to visit the Shah of Iran at New York Hospital. That turned into her first article and cover story for the Post and she got her own gossip column there in 1981.
The article came out a month after militant Iranian students cited the Shah"s visit as their justification for seizing the U.S. embassy and holding 53 Americans hostage.
Trackback from your site.